---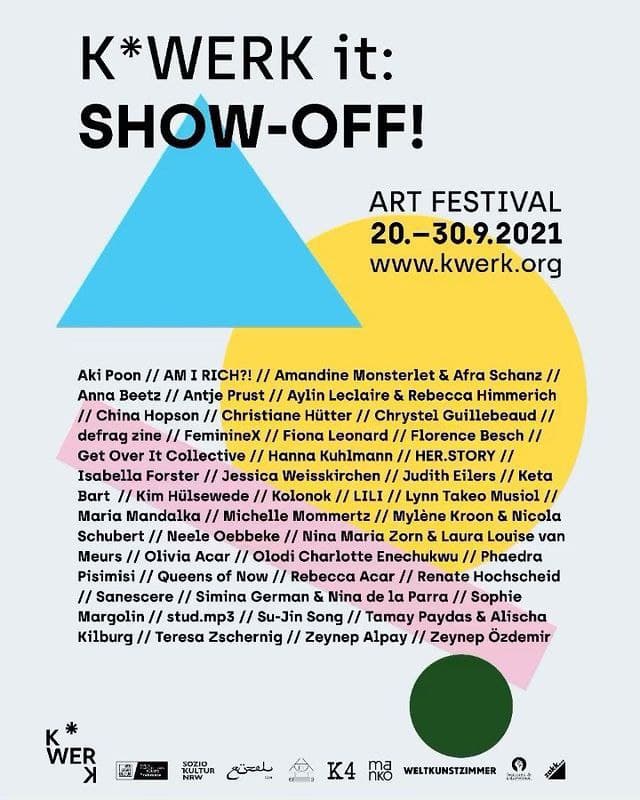 ---
K*WERK it: SHOW-OFF!
ART FESTIVAL // 20.–30.9.2021
Smash the Ist-Zustand!
---
Um gemeinsam die Strukturen der Kunst- und Kulturszene zu verändern, bespielt das K*WERK zehn Tage lang Orte und Bühnen im Herzen Düsseldorfs und im World Wide Web. Unsere Künstler:innen? FLINTA* only. Wir präsentieren: Zehn Tage, um Kunst zu schauen, Kunst zu machen, zu workshoppen und zu netzwerken. DIY & mit freiem Eintritt. Get ready to show off!

#kwerkit #showoff2021

Für alle Veranstaltungen gilt: 2G + PCR. Kommt geimpft, genesen oder mit tagesaktuellem PCR-Test.
Just a little foretaste // CANDY ISLAND 02 – Work in progress!

Installation, 2100 mm x 580 mm
(Edelstahl, Aluminium, Süßigkeiten, Neonfolie, Lack, LED-Lampen) Düsseldorf 2021 © Foto: Maria Mandalka
zakk Studio // 14:00 // Installation
Maria Mandalka: Candy Island
---